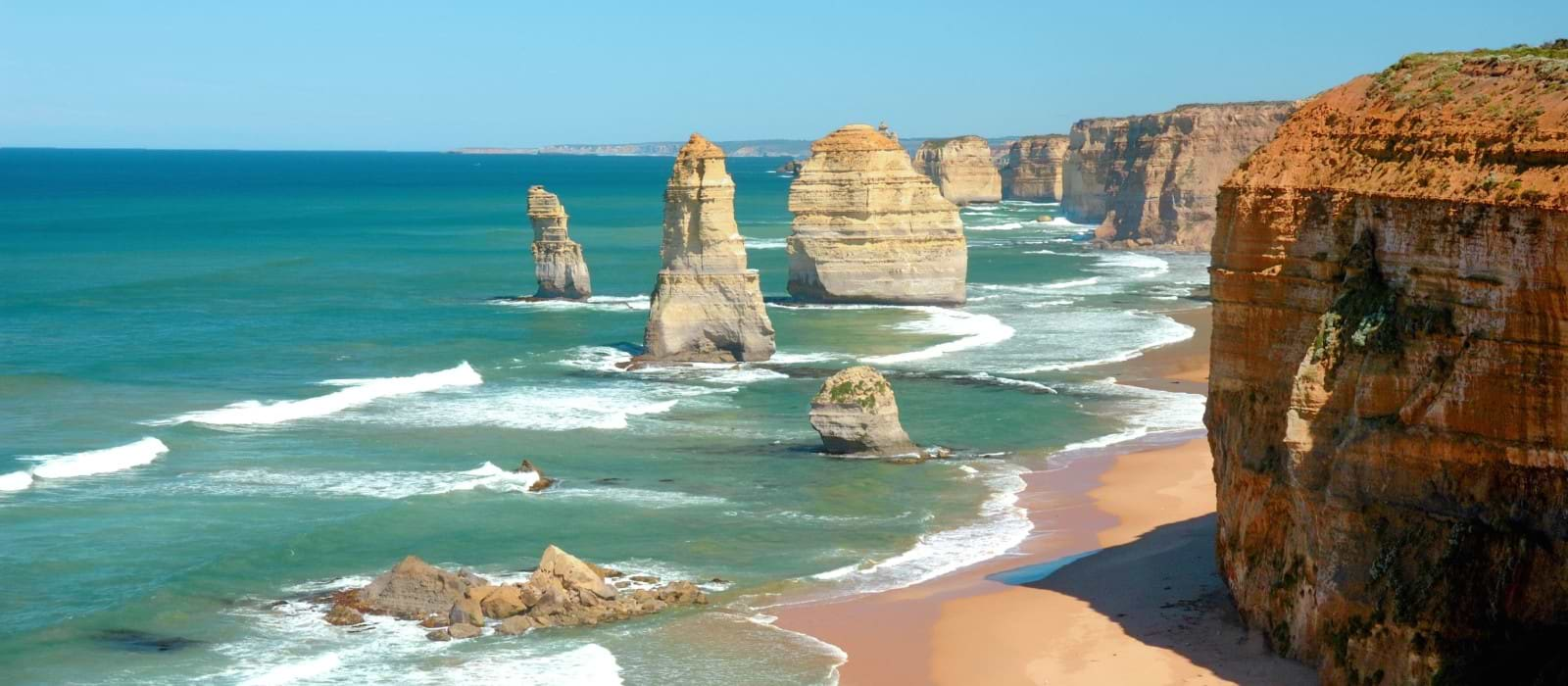 South Pacific
Pick up where you left off…
Your vacation awaits — don't let these voyages sail away.
20% OFF VOYAGES
Australia & New Zealand
From Australia's luminous shores and New Zealand's top cityscapes to the captivating coasts of Tasmania, Resilient Lady is sailing across the Tasman Sea with 12 brand new itineraries. And for a limited time, you can get 20% off these voyages — from quick, 2-night getaways to 14-night sojourns at sea.
Resilient Lady's 2023 summer plans
Embark on a journey between the last lands of eastern Australia and New Zealand's North and South Islands. With new homeports out of Melbourne and Auckland, you'll get to experience the natural wonders of the southern hemisphere's most enticing cities, the unusual wildlife roaming these untapped shores, and the epic geological drama that unfolds over land that can only be discovered towards the bottom of the world.
Sydney

Greeting Sailors with massive cliffs, an iconic Opera House, and a historic bridge, Sydney's wow-effect makes it one of the world's greatest port cities. Hit Bondi beach, find the trendy bars, or gaze at the rugged coastal scene — there're heaps of options around, and Sydney is all yours to explore.
Auckland

With vivid canyon sunrises, gold, black, and white sand beaches — Auckland's geography is as diverse as its incredible people. As you plunge headfirst into the world's largest Polynesian community, you'll be enthralled by this gorgeously unique culture that blends into a stunning volcanic backdrop.
Burnie

Once an industrial base, Burnie has transformed into a vibrant coastal city of tastemakers. Day trips to the coast and nearby forests allow for beautiful bushwalks, waterfalls and sprawling rhododendron gardens, while dusk over Emu Bay brings the arrival of its most popular locals — little penguins.
Christchurch

In the heart of the Canterbury Plains is a modern mecca of funky bars, art exhibits, and nature rarely experienced anywhere on earth. The foodie scene encapsulates its farming culture, and the Antarctic Center allows for your own Canterbury Tales when discovering its astonishing natural world.
Doubtful Sound

Don't be fooled by the name, Doubtful Sound (Patea) — Fjordlandia's majestic waterway — is undoubtedly home to some serious, unspoiled beauty. While the native Māori visited the area seasonally, no human inhabitants ever lived here full-time, allowing only the most pristine nature to flourish.
Dunedin

Golden forests, beaches lined with wildflowers, and glaciers tucked alongside crisp snow-capped mountains — there's a reason these lands have only been inhabited for less than 1000 years, and now you can explore New Zealand's raw, virgin territory, when visiting the world's final frontier.
Dusky Sound

In an archipelago of over 300 islands, Dusky Sound — Māori name, "Tamatea" — includes remarkable waterways and enigmatic solitude that can only be found within these ultra-rare Pacific fjords of untapped and enchanting nature.
Hobart

The island of Tasmania has developed into a self-sustaining refuge, with its capital fusing outdoor, culinary, and artistic trends into a unique, urban playground. Seek out the divine natural splendor or the unparalleled dining — as both are often found in a single venture.
Melbourne

From its hipster art-scene and Aussie Football, to the late-night bustle of Chinatown, Australia's southernmost city blends cutting edge trends with coastal culture — and no matter the hour or your travel style, you'll be amazed by what there is to uncover inside this glittering metropolis.
Milford Sound

Formed by a glaciation process over millions of years, Milford Sound (Piopiotahi) is arguably one of the most beautiful places on earth. Rainfall has created both temporary and permanent waterfalls, cascading down cliffs towering hundreds of meters high, and black coral beneath the water below.
Napier

Often referred to as the "Nice of the Pacific," Napier checks all the boxes of a chic, seaside city. The Art Deco buildings invoke the feeling of being on a movie set, while its metropolitan energy and charming ocean village vibes illustrate how multiple metropolis identities harmoniously intertwine
Picton

Originally named Waitohi by the Māori inhabitants, Picton is South Island's gateway to a network of coastal waterways, islets, and peninsulas of Marlborough Sound. Made famous for its wine, it's the region's seafood and dramatic mountain scenery that will also inspire a day of exploration.
Tauranga

As one of New Zealand's fastest-growing cities, Tauranga has created an urban landscape that emphasizes and preserves its stunning natural makeup. Aqua-holics will encounter beaches perfect for any water activity, and rare wildlife, geysers, and waterfalls can all be observed in its nearby villages.
Wellington

This creative capital has become one of the world's top food destinations. Famed for its coffee, you can't leave Wellington before grabbing a flat white brew. And when you add in a storied maritime past — plus sun-soaked days of beaches and bays — it's more than just a city with a stunning backdrop.
Destination: your inbox. Our mission: make it worth opening.