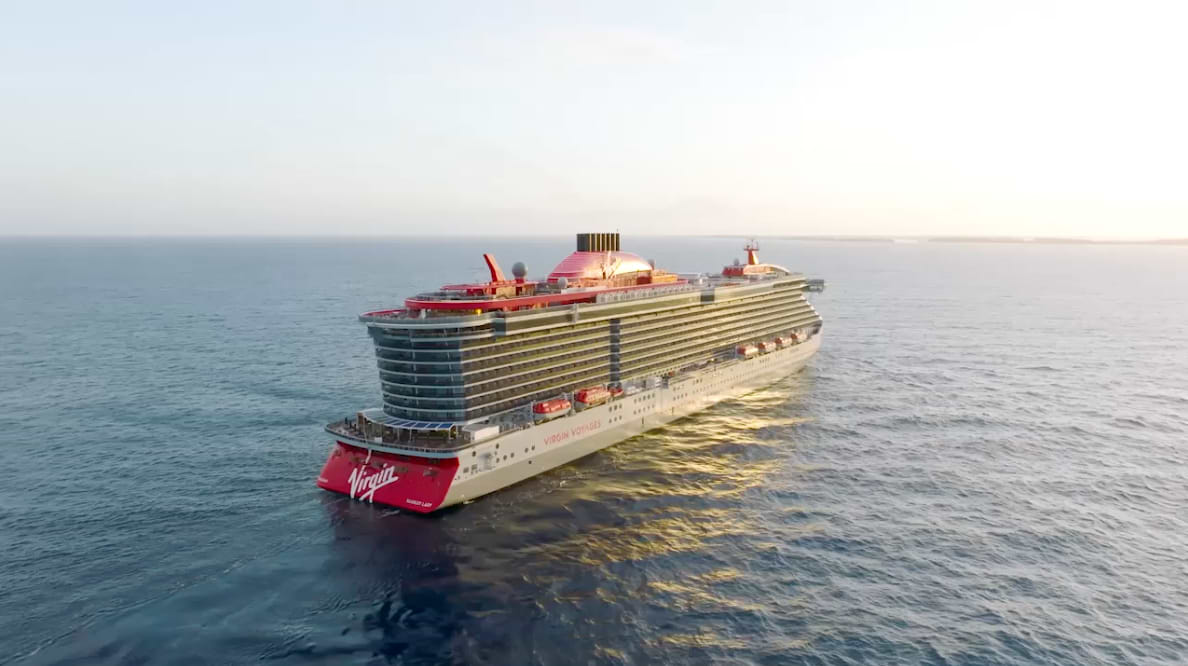 TRANSATLANTIC VOYAGES
Pick up where you left off…
Your vacation awaits — don't let these voyages sail away.
Resilient Lady's Epic Repositioning
Resilient Lady's 2023 one-way voyages will have you dancing to Balinese beats in Kuala Lumpur's streets, yearning for Cairo's vibrant energy, and craving Cairns' laid-back charm — all while sailing from Athens to Dubai, onto Singapore, and finally landing in Sydney to spend her winters in the warm summer breeze.
Barcelona

With a homeport only steps from Barcelona's diverse neighborhoods and the famed urban beach of La Barceloneta, Sailors will uncover hidden secrets from local market cooking classes to modern and historic art in this vibrant seaside, architecturally stunning European city.
Cádiz

One of the oldest cities in Europe, this gorgeous Spanish city is drenched in sailing history and rich Andalusian culture. With its close proximity to Seville and dotted with vivid green water and bright white buildings, Cádiz moves to a thrilling beat — where the sound of flamenco hangs in the air.
Funchal

Tucked between the mountains and the Madeira coastline, Funchal is known as, "God's Floating Garden". From its center, filled with bars, cafes, and galleries, to the flora-covered coasts and dramatic cliffs that line the emerald-blue sea — this Portuguese city (and its wine) beg to be experienced.
Gran Canaria

From the stretches of shimmering white beaches and golden sand dunes to the buzzing capital of Las Palmas, this subtropical island is full of both endless natural wonders and trendy European flair. Days can be spent hiking, scuba diving, or exploring the city's center for fresh seafood and martinis.
Ibiza

Arrive at golden hour for a catamaran sunset sail before jetting to one of Ibiza's famed night clubs. For those more into delicious than dancing, try an olive oil or local winery eco-tour, carve out a secluded spa day complete with a mind-balancing yoga class, or just let the old city guide you.
Lisbon

Known as the city that glows, the Portugese capital sits atop seven hills that form a natural amphitheater, reflecting light all around. Beyond the cosmic gleam, Lisbon is filled with dreamy, seaside romance — from the white-sand beaches to wine-tasting along the cobbled streets downtown.
Málaga

Uncover centuries of history in one of the oldest cities in Europe and among the oldest continuously inhabited in the world. Sailors can venture off to visit Alhambra, a beautiful old-world palace, or just spend the day reveling in the small town charm.
Miami

From the art scene in Wynwood to the shores of Miami Beach, Florida's Magic City is a perfect collision of relaxation and tradition. Whether you're getting down at a taco shop-turned live music performance or lounging on a yacht, Miami makes for one perfect cruise destination and home port.

Hop-On Hop-Off Miami

Soak up Miami's best spots on this audio-guided (and air conditioned) tour.
Palma de Mallorca

This capital city of the island of Mallorca is the perfect dose of countryside serenity you might expect from a secluded Balearic island. Bike through picturesque villages, enjoy art in Valldemossa or stop off at a family-owned winery with a history so rich, you can taste it with each sip.
San Juan

From the marine life in the bays or radiance of San Juan's nightlife, Puerto Rico glows. Punctuated by El Yunque rainforest and the shores of Isla Verde and Condado beaches, San Juan is perfectly located to easily access all the geographical and cultural diversity that makes Puerto Rico so special.

At Twilight: Canopy Tour Zip-line Adventure

Zip your way through the 2,300-acre private estate of Hacienda Campo Rico under the Puerto Rican night sky.
Santa Cruz de Tenerife

Arguably the most striking of the islands, Tenerife somehow boasts remote mountain-ridge villages, charming ancient towns, and a bustling cosmopolitan city. Cool off in the natural salt-water pools, discover the volcanic sand beaches, or head to a seaside restaurant for a glass of homemade sangria.
Airlie Beach (Queensland)

The gateway to the 74 Whitsunday Islands, Airlie Beach is the best spot for a nautical escapade. Spend your day snorkeling the heart-shaped bit of the Great Barrier Reef, paddling along Whitehaven Beach pearly-white shores, or hiking a lush rainforest if you prefer exploring the land from within.
Benoa, Bali

With over 24 hours to cover Bali's luring rice fields, exotic beaches, tropical forests, and iconic volcanos, you'll get to fully experience Benoa's artsy vibes, vivid sunset, and fragrant spices. While thieving monkeys notably haunt Balinese temples, it's Benoa that will naughtily steal your heart.
Cairns (Yorkeys Knob)

Set on the Marlin Coast and a stone's throw away from the Great Barrier Reef, Cairns is one of the hottest cities in Australia. Sure, Trinity Bay's warm breeze soothes the heat out — but Cairns' prime location, pedestrian-friendliness, and adrenaline-filled attractions make its allure unmatched.
Colombo

A must-visit spot in Sri Lanka, Colombo flaunts stylish eateries, unique galleries, and trendy shops. But with a bit of exploration, you'll find lovely temples, an outstanding national museum, bustling markets, great local food, shops boasting swag, and tiny, hearty cafes you'll be eager to stop by.
Darwin

A small but vibrant cosmopolitan city flaunting jaw-dropping nature and laid-back charm, Darwin offers one-of-a-kind experiences that go from hip museums to death-defying dives with crocs. Embrace the balmy weather and discover its rich indigenous art, stunning national parks, and unique wildlife.
Dubai

Famous for its iconic towers, palm-shaped islands, and palatial resorts, Dubai embraces sunshine and novelty just as much as its cultural diversity. From eating like a Bedouin to skiing on a massive indoor slope, there's no shortage of entertainment in this shopping haven with a vibrant nightlife.
Goa (Mormugao)

Find your Zen — and a tan — in a beach yoga session, indulge in a classic fish curry rice, or discover the Portuguese influence on local architecture and culture. Infused with sunshine, golden-sand beaches, and spirituality, Goa's laid-back lifestyle will surprise even the most seasoned travelers.
Mumbai (Bombay)

India's largest city, financial powerhouse, and fashion epicenter, Mumbai is home to the Bollywood film industry, three UNESCO World Heritage Sites, and most of the country's millionaires. Staying up late, you'll uncover hidden temples, peruse unique bazaars, and indulge in India's premier eateries.
Phuket

Known for its jade-colored waters, wild party scene, and glitzy lifestyle, Thailand's largest island has an intriguing past and eclectic culture. Venturing beyond Phuket's revamped Sino-Portuguese shophouses, Chinese shrines, and colonial mansions, you'll find unexpected riches many would miss.
Port Klang (Kuala Lumpur)

Boasting surreal high-rises on its skyline, tempting food stalls in every corner, and old minarets roaring for attention, this capital city is quite a treat for the senses. With a full day to explore Kuala Lumpur, you might as well join the locals in their two favorite sports — shopping and dining.
Alexandria (Cairo)

Just a few hours away from the captivating streets of Cairo, Alexandria boasts a relaxed Mediterranean feel and an unrivaled, iconic past. Founded by a 25-year-old Alexander the Great in 332 BCE, and center stage in Cleopatra's legendary love affair with Caesar and Mark Antony, it is a must-see.
Safaga

A gateway to Egypt's most famous destinations, Safaga is also a gem of its own. Bask in the desert sun, cross the Nile to visit the Valley of the Kings, or explore the Luxor Temple before taking a scenic felucca sunset sail and ending your day between black sand treatments and seawater therapies.
Singapore

Incredibly easy to explore, Singapore is a dynamic cultural hub with four official languages. From electrifying Hindu temples and green skyscrapers to world-famous street food, medicinal eateries, and Michelin-starred restaurants, Singapore might be a small island-state, but its allure is enormous.
Suez Canal Passage

Built in 1869 to shrink the distance between Europe and Asia, the Suez Canal is a sea-level waterway bordered by cosmopolitan cities and scenic villages that connects the Med to the Red Sea via Egypt. A literal gateway to the two continents, it cuts off 4,300 miles from the original sailing route.
Sydney

Greeting Sailors with massive cliffs, an iconic Opera House, and a historic bridge, Sydney's wow-effect makes it one of the world's greatest port cities. Hit Bondi beach, find the trendy bars, or gaze at the rugged coastal scene — there're heaps of options around, and Sydney is all yours to explore.
Port Said (Cairo)

Amid epic pyramids, huge museums, and the world's most famous river to visit, it's not hard to lose track of time in Cairo. So stretch out your evening at a trendy shisha bar into a wild night out, then see the sunrise by the Nile to the sound of dueling calls to prayer during your overnight stay.
Destination: your inbox. Our mission: make it worth opening.