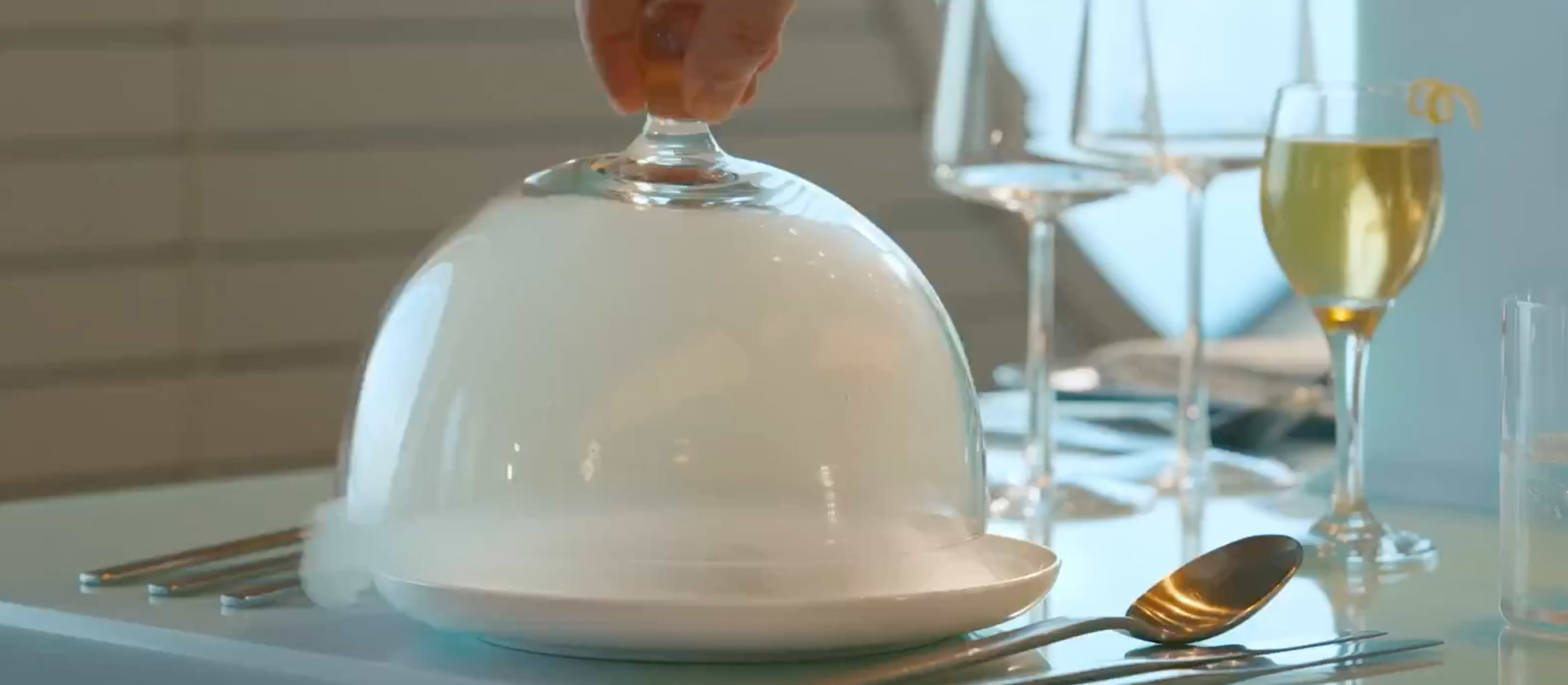 Dining & Sipping
Pick up where you left off…
Your vacation awaits — don't let these voyages sail away.
Here's a taste of what to expect...
...from our foodie approved eateries.
The Wake

The perfect mix of sophistication, nostalgia and cool — entering The Wake is an event in and of itself. And once you've made your way down the grand staircase, you'll enter a world that harks back to the old steakhouse, three-martini-lunch days of Madison Avenue ad men. But ya know, now with, thankfully, gender equality. And less cigar smoke.
Pink Agave

Inspired by the capital city's red hot street food scene and with an interior designed by Tom Dixon, you'll be treated to an immersive odyssey of Mexican cuisine. Personal, intimate and educational, our master of ceremonies will guide you through a highly curated dining and drinking experience. Mezcal dinner pairings equipped with a history lesson? Yes, please.
Razzle Dazzle Restaurant

So your best friend wants something light and healthy, and you want.. unicorn toast? This is that place. Boasting a bold interior, this happening spot offers creative surprises on some classic, comfort go-to's. With a menu that's being coined "naughty or nice", you can choose from one side that skews toward plant-based vegetarian dishes, or the indulgent side — meats, sweets, and gluttonous treats. So whether you're looking for something familiar or something spicy and out of left field, this place does all of that with a (unicorn) twist.
Experimental onboard eatery

The Test Kitchen

Inspired by Escoffier's Ma Cuisine, this laboratory-like eatery is part cooking school and part eatery. It's educational, experiential and social — and delicious in ways you've never seen (er, we mean tasted). With classes and evolving tasting menus, this is for the curious, boundary-pushing tastebuds on board.
Gunbae

If you're into hands-on meat-grilling and soju drinking, our Korean BBQ is the perfect spot to do all of that with maximum social engagement (in real life, of course, but feel free to 'gram it if you want). It's a catalyst for great conversation, and since we all have that one friend who insists on being the meat-master — go ahead and roast the master while they roast the meat 🔥
Lick Me Till...Ice Cream

This whimsical ice cream shop offers home (or ship) made, complimentary scoops. That includes six creative artisanal flavors guaranteed to satisfy every sweet tooth craving.
The Dock

Featuring the same Mediterranean-inspired menu as our indoor counterpart, The Dock House, The Dock brings you the ultimate in lounging with the wind in your hair and the sun (optionally) on your face. Like an elegant cabana caught between the chill, seaside perfection of Ibiza and the rustic-chic resorts of Brazil, The Dock allows you to kick back and sip a from our expansive rosé menu and leisurely indulge in mezze bites until your next adventure calls.
The Dock House

An effortlessly elegant yet cozy counterpart to the view-focused scene outside, The Dock House delivers bright flavors with acoustic live sounds. Choose from fresh fish for the table over an open flame, or bites like house-made pita and dips from the roving Mezze-cart. Detox with mocktails, retox with Mediterranean-inspired cocktails or peruse the selections from the specially curated rosé program. Part elegant Ibiza cabana, part rustic-chic resort — always full-on delicious specialty dining.
Extra Virgin

Deeply rooted in Italian culinary traditions, our trattoria serves regionally-inspired food punctuated by our fresh, handmade pasta. Start with a shared antipasti — and follow that with any of our pasta-centric favorites and worship the carb gods like a good vacation begs of you. Top it off with a traditional Italian aperitif to make your night complete... or help it get started.
Fresh, Made-to-Order Pizza

The Pizza Place

No pre-cooked pizza slices sitting under warming lamps here. Feel free to choose from the classic menu or design your very own bespoke pizza. Featuring a brilliant beach club-inspired design with white and pastel colored furniture, navy striped accent pillows and hammocks for lounging, this casual spot is a perfect lunch time destination or late-night, post drink, hunger buster go-to.
The Social Club Diner

The food and drink make the experience here where we've spun modern takes on fairground classics. But we don't call it "social" for nothing — inside, you'll find Sailors playing air hockey, shuffle board and foosball. And located over at The Social Club Bar, we offer signature drinks and treats like our photogenic freak milkshake and floats stacked high with cookies, cake, frosting and candy — with an option to spike them with a lil booze for an adult-friendly upgrade.
Sun Club Cafe

Inspired by one of the most iconic dishes of the Hawaiian islands, we offer marinated tuna, chicken and salmon over greens or rice bowls. Fresh, tasty and healthy, they're high in lean protein and healthy fats while giving you a sunny dose of veggies or whole-grains.
The Galley

Modeled after popular food halls where you can taste a variety of options — The Galley, designed by Softroom — is your go-to for a quick bite, meal or pick-me-up throughout the day. Featuring a mix of more than eight shops and food-truck style carts, each spot will have a unique concept with signature dishes that change to suit the time of day. The Galley (takes deep breathe before reading an impressively long list) boasts a dedicated bakery and pastry shop, a panini shop, a burger grill, a taco shack, a sushi bar with bento boxes, a noodle bar, a soup and salad stand, and a 24-hour American diner.
And exhale.
Noodle Around

Our noodle offerings evolve from miso soup specials in the morning to tonkatsu ramen in the afternoon and evening.
Japanese Breakfast & Bento Box

Bento Baby

Head to The Galley and start your day with a Japanese breakfast, or end it with a bento box. Or actually, have a bento box for lunch, too (because you can do that, here).
The Sweet Side

The Sweet Side of The Galley houses pastries in the morning (for the sweet-toothed breakfast lovers among us) and desserts later on. It's a non stop sweet fest, so leave your rude friends by the pool.
Well bread

Well Bread has fans, and we call them "Bread Heads". So make like a bread head and grab a pastry for breakfast or a flatbread in the afternoon or evening down at The Galley.
Diner & Dash

This is our 24-hours-a-day classic American diner grub located in The Galley. Craving an egg and bacon dish in the morning? BLT at lunch? Chicken and potatoes for dinner? You're in luck, because this is the classic diner fare of your middle-American dreams.
Burger Bar

All day we burger. Breakfast burgers in the morning. Lunch burgers in the afternoon. Dinner burgers in the evening. And Impossible burgers for the plant-based eaters. Burgers. Burgers. Burgers. Straight up.
Hot off the Press

From serving breakfast-themed sandwiches and toasties in the morning to afternoon and evening-inspired sandwiches later on — something's always being toasted in The Galley.
Let's Taco Bout It

Located in The Galley, this taco spot takes you straight to the food truck-lined streets of Austin featuring breakfast burritos in the morning, and vegetarian and meat-based tacos in the afternoon and evening.
The Daily Mix

This healthy joint in The Galley features yogurt and oatmeal dishes for breakfast and turns to soups and salads in the afternoon and evening. So if you're looking to mix it up in a healthy way, you know where to go.
STILL HUNGRY?
No frills, just tasty thrills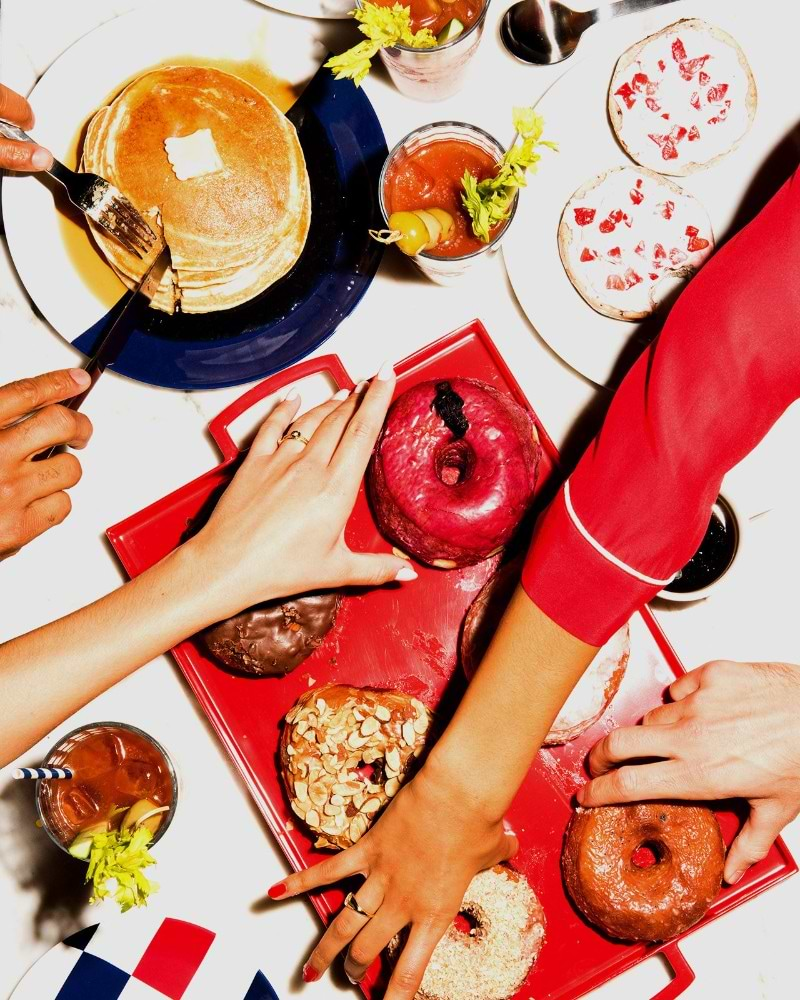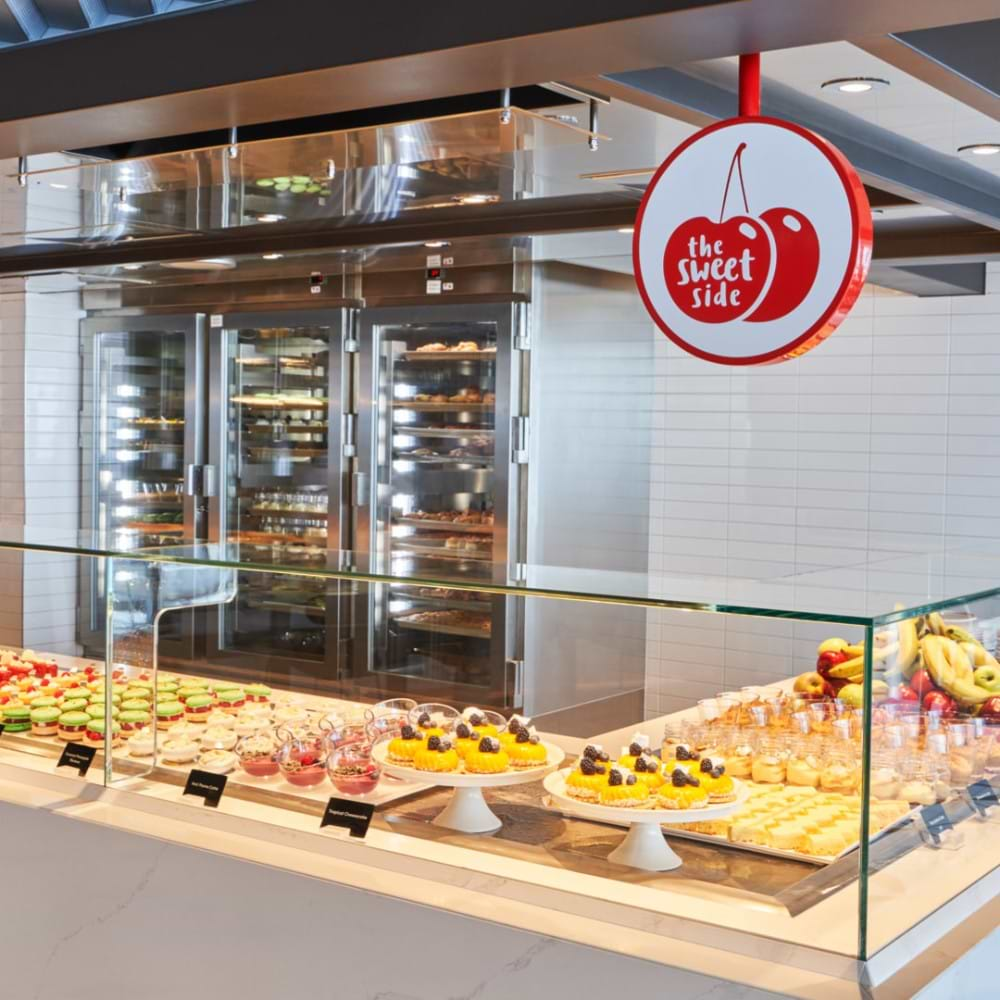 The Galley is our floating fresh food market. Start by grabbing something quick and head back out to the pool or sit down and check out the stunning design and incredible views. With more than 10 different international eateries (all included), food is made fresh to order, so it's always tasty. From light bites and bold burgers to noodles, tacos, and much much more – all our food is sustainably sourced and presented.
Reasons to raise your glass
Beyond basic bevvies, we've got special somethings for all Sailors to make a splash.
FEELING THIRSTY?
We're shakin it up
We've partnered with some of the industry's most esteemed mixologists, from the Bar Lab and the Cocktail Cartel, to global bartending phenomenons like Charles Joly and Julia Momose, to create an exceptional beverage program bringing you what matters most – quality drinks crafted with the best ingredients, without the premium price tag.
Cheers to fair pricing
We heard you, Sailors. No complicated drinks packages with unreasonable rules here. Just good value for all.
$50 BAR BONUS
Purchase a $300 prepaid bar tab and we'll top you off with an extra $50 to spend at any bar onboard or at The Beach Club at Bimini. Cheers!
Bar Tab is a non-refundable onboard credit that's able to be spent on premium beverages all around the ship and at The Virgin Voyages Beach Club at Bimini.

Bar Tab is not available to purchase on board the ship. You can purchase a $300 prepaid Bar Tab before you get on board, and we'll top you off with an extra $50 bonus up until 24 hours prior to sailing.
For a limited time only, for every $300 pre-purchased for your Bar Tab, you receive a bonus of $50. Yes, as the name suggests, Bar Tabs can be used to buy premium drinks only. Terms and Conditions apply
No. We offer fair drinks pricing and so much more included in every voyage fare "On Us" so there is a premium drink to suit every Sailor's budget.

Can I use it to buy drinks for other people?
Yes. Bar Tab is designed to pay for any premium drink, for you and your friends, therefore not everyone in your cabin has to buy a Bar Tab.
How can I start my bar tab?
Simply head over to the My Account section and you'll be able to lock it in.
Thoughtfully Sourced Coffee

Grounds Club

It's early. You're still a bit blurry and coffee is the only thing you can focus on right now. Luckily, The Grounds Club isn't far, exclusively pouring one of the most satisfying and tasty brews you've ever had — from direct-trade pioneers, Intelligentsia Coffee. It's just like your favorite coffee shop with the best almond milk, double shot, latte you can't start your morning without... but with ocean views.
Draught Haus

A selective beer drinker's go-to, Draught Haus features a variety of beers on tap, a wide range of artisanal bottles, boiler makers and shot cocktails. This airy beach bar meets stylish craft beer house provides plenty of places to sit back and sip, or just grab a growler for those 'bring your brew with you' kind of days. Chill, casual but discerning beer connoisseur approved — you can always stop by for breakfast where we serve our "All Day Breakfast" shots.
Sip Lounge

Our curated champagne lounge, SIP, was designed to satisfy all your champagne and caviar needs. From an afternoon tea menu to an effervescent nightcap, this is the spot to come to whenever you're craving a twist on a classic cocktail or a sparkly refresher in the form of a glass of bubbles.
On the Rocks

Our mixology bar on board focuses on aged spirits poured over ice (hence the name), and is the perfect place to make bold choices… with a twist. Or really shake it up (wink), and challenge our mixologists to make you something extra special. Forget the menu and tell the bartender what flavors you like — then watch as a unique masterpiece is created before your very eyes. Kick-start the evening or round out the night with a cocktail that's perfectly crafted for you.
The Loose Cannon

Inspired by seaside bars in Brighton, UK, an opening gun salute signals the singing of an old sea shanty which can be heard far and wide. This salty sea dog, nautically-themed bar boasts lively music and animated processions with equally spirited bar keeps — ready to ignite a hearty chant at a moment's notice
The Dock Bar

Outside at The Dock Bar, we offer the same libation list as inside at The Dock House Bar, where the star of the show is our premium rosé program. But that's not all — we have a selection of sparkly cocktails and spritzers to cool you off if the incoming sea breeze isn't enough. So re-think your siesta and move the ZZZs from your cabin to our shady (or sun-facing) lounges.
The Dock House Bar

At The Dock House Bar, the star of the show is our premium rosé program, but we also have a selection of spritzers and cocktails with a Mediterranean flair. So forget your siesta and head here for a crisp and sparkly afternoon delight.
The Aquatic Club Bar

Vacation is somewhat incomplete without a frozen drink by the pool. Or a rum punch. Or a mojito. Or a mocktail with an umbrella in it. Whatever your libation style, we've got a full-bar right by the pool so that you never have to stray too far from the party.
Healthy Juices & Full Bar

Gym & Tonic

After working up a sweat at B-Complex, relax with a wellness beverage at Gym & Tonic. A juice bar with numerous wellness offerings — including a full-bar — Gym & Tonic has a myriad of drinks to help you wind down after giving your all… or some of your all. From made-to-order shakes and fresh or cold pressed juices to our Reset Cocktails that are healthy in spirit (while putting the spirit in healthy), there's no wrong way to thank yourself for taking care of your mind, body and soul.
The Social Club Diner

The food and drink make the experience here where we've spun modern takes on fairground classics. But we don't call it "social" for nothing — inside, you'll find Sailors playing air hockey, shuffle board and foosball. And located over at The Social Club Bar, we offer signature drinks and treats like our photogenic freak milkshake and floats stacked high with cookies, cake, frosting and candy — with an option to spike them with a lil booze for an adult-friendly upgrade.
Sun Club Bar

Above the pool and on the sun deck (because any pool area worth its sea salt should have more than one bar), you can grab a frozen drink or cocktail and post up for optimal sun-soaking or people-watching during one of our iconic nighttime pool parties.
The Red Bar

Located inside Razzle Dazzle, The Red Bar is a full bar that has as much flair as its parent eatery. After snacking on the can't-miss milk and cookies (really, you can't miss), try the sparkling YAAASSS Queen cocktail (accented with drinkable glitters) or the Filthy Mary — our take on a bloody mary.
Fancy some bubbles?
Save water. Drink champagne.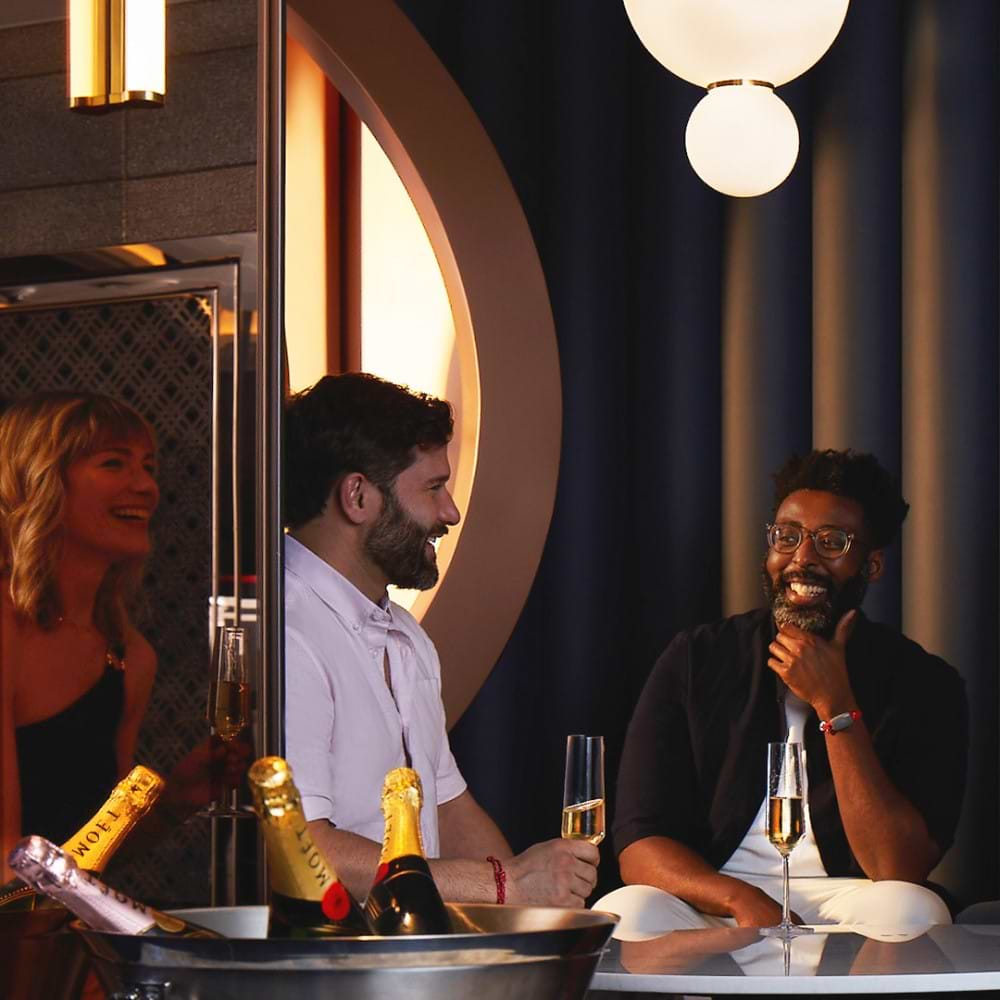 We take champagne seriously, from our new partnership with Moët & Chandon, curated champagne lounge, even our in-cabin, one-of-a-kind champagne tables. For us, when it comes to sipping the sparkly, we adhere only to one rule: champs is best served anywhere, anytime. Champagne on demand, no matter where you are on board anyone? We have that too. Cheers!
Fresh flavors, unexpected pairings, and emails worth the open.