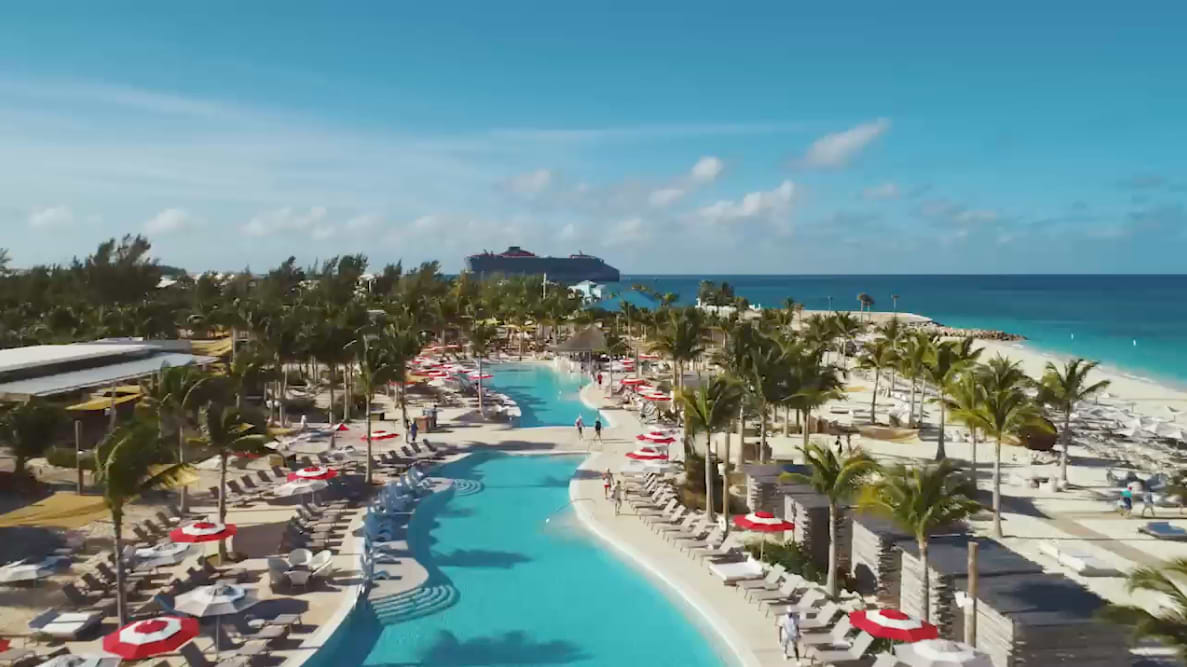 Caribbean Cruises
Pick up where you left off…
Your vacation awaits — don't let these voyages sail away.
Cruise the Caribbean with Virgin Voyages
Get new perspectives on the Caribbean from our homeports of Miami and San Juan — setting sail through turquoise waters and painted skies.
From quiet beach mornings to exhilarating afternoons spent exploring, our Miami voyages feature a stop at our private beach club experience in Bimini, Bahamas, the Virgin Voyages Beach Club at Bimini.
The Virgin Voyages Experience
Explore our vibrant homeport of Miami before we whisk you away to some of the most amazing places in the Caribbean.
Our Home Base
First stop, Miami
Miami can party like Vegas, with beaches like the Caribbean and the backcountry beauty of the Bayou, all with the rich cultural diversity of cities like New York and London. The Magic City isn't just where your journey takes off from; it's where it begins.
Relax with restorative options like beachside yoga classes and lounging by the pool in a private cabana. As the day winds down with a beachside bonfire, the night gives way to a vibrant-colored sunset apropos of the idyllic time spent on the islands.
See Port Guide
Discover something new or revisit a destination you already love
Wherever you choose to sail with Virgin Voyages, a profound discovery of self is inevitable.
Ready to plan your future getaway?
Go ahead and make plans to set sail with us on one of our incredible Caribbean itineraries. But if you'd like to keep learning about us and all the places we go, scroll down to read in-depth guides to our destinations, explore our exclusive specialty sailings, and get access to limited time offers.
We are constantly adding new and gorgeous destinations for our Sailors to explore
Check back soon as we continue to add guides and in-depth information about our newer Caribbean ports, like the ones that are featured below.
Basseterre

From rum tastings and beach hangs to rainforest explorations and catamarans to Nevis, the capital of St. Kitts' social scene revolves around good living and even better chat.
Bridgetown

Miles of sandy beaches and teal waters meet rhythmic local culture and unbelievably mouth-watering classic dishes in this electric Barbadian city.
Castries

Visit the sulfur hot springs, hike through the Piton mountains, or soak in the volcanic mud baths — the capital of St Lucia is a sanctuary for outdoor enthusiasts and lounge-seekers alike.
Fort-de-France

An island rich with contrasts, Martinique mixes quiet moments on quaint beaches or atop dramatic mountains with the cultural vibrancy of downtown Fort-de-France.
Oranjestad

Known as "One Happy Island", Aruba is home to electric-colored architecture, uncrowded beaches, and crystal-clear water perfect for a diving glimpse of their famed shipwrecks and marine life.
Pointe-à-Pitre

On islands home to lush national parks and streaming waterfalls, Guadeloupe's largest city is known for its vivacious French feel, lively fish markets, and café-lined streets.
St. John's

Home to 365 white sandy beaches, this Antiguan city is perfect for beachside lounging, snorkeling, or hiking up to Fort Barrington for panoramic views of the island.
Tortola

The largest of the British Virgin Islands boasts famed natural wonders like The Baths of Tortola giving way to vibrant reefs and snow-white beaches; a quick boat ride away from the other less inhabited spots in the BVI.
Willemstad

A little piece of Europe at the edge of the Caribbean, Curaçao delivers a delightful Dutch vibe with the picturesque weather, pristine beaches, and relaxing essence that comes with island life.
Like what you've seen so far?
Oops, something went wrong. Please try again or visit our Contact Us page. You can also:
Check you've typed your email address correctly.
Make sure you've checked the signup box.
Success!
You've successfully signed up for our email list... You're in for some treats.
Destination: your inbox. Our mission: make it worth opening.
Sorry, there's something wrong
Woop, woop, you're signed up!
...your inbox won't know what's hit it 💃🕺