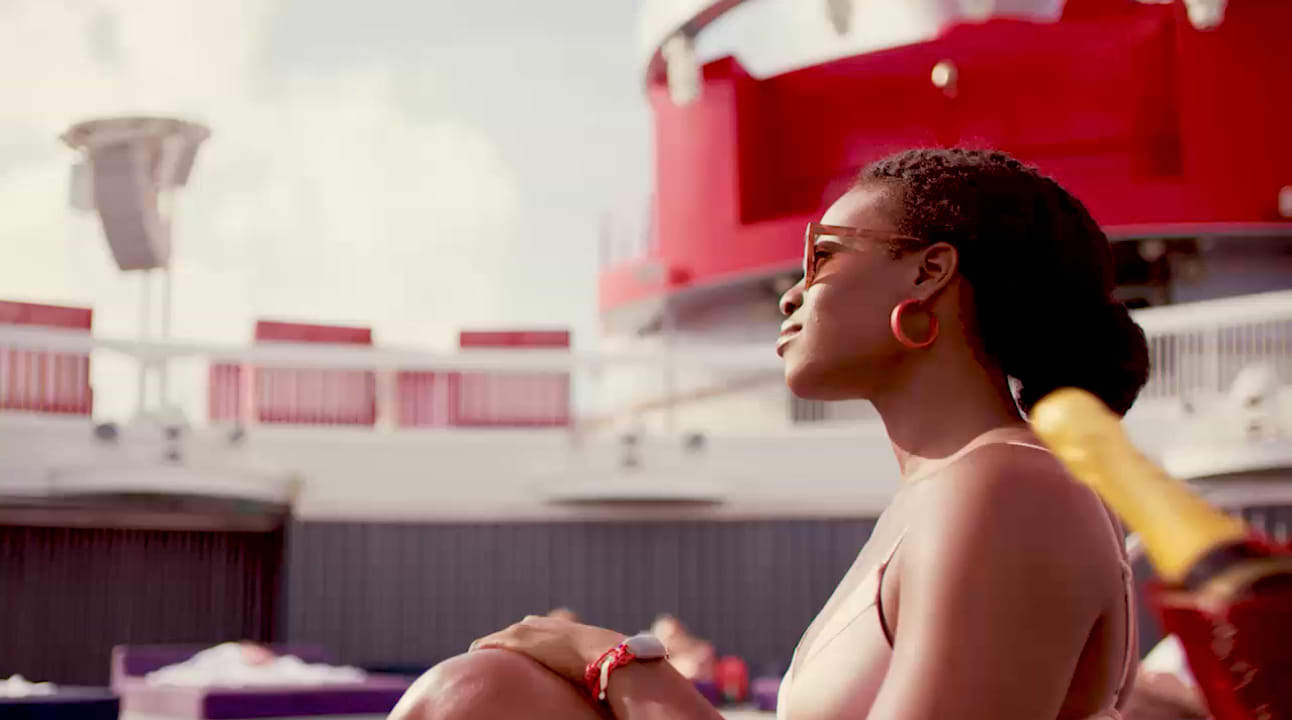 What's Included
Pick up where you left off…
Your vacation awaits — don't let these voyages sail away.
Why Virgin Voyages?
We're never on cruise control
Relaxed, flexible, and always authentic, our voyages are where laid-back tranquility meets exhilaration — seeing the world aboard our 4 stunning, game-changing ships at sea. We're exclusively adult for a reason; so you can disconnect from routine and reconnect with yourself. From unique restaurants with Michelin star chef-curated menus to luxury inclusions you're not used to having taken care of for you, we're redefining what sea travel can look like.
Word-on-the-sea is that we're *the* ship to be
5-star reviews. Awarded Best New Cruise. And incredibly kind reviews.
ALWAYS INCLUDED
Food to elevate your mood
When we say "included," we mean it. From comfort go-to's to experimental cuisine, elaborate brunches to Korean BBQ, all our specialty eateries are on us — no hidden tax, no pesky disclaimer, no crowded buffets or designated dining times. Plus, all our food is sustainably sourced, made fresh-to-order, and always tasty. Go ahead, snap that pic (you know you want to) — because we're picking up the bill.
ALSO INCLUDED
We've taken care of tipping
We've reimagined the way people holiday at sea from the hull up — so that epic service becomes the norm. Our Crew is knowledgeable, friendly, and incredibly stylish — but mainly, our Crew is genuinely happy to help you make your vacation one of a kind. So get pampered, taste everything, and enjoy a drink (or two) knowing that all tips are covered. Cheers to that.
YEP INCLUDED, TOO
Free WiFi for all
Check in with your loved ones. Make new connections aboard. Or post that ice cream selfie before it melts. With WiFi included on every sailing, you can show off share the view with your home crew, find your newest best friends online, or check in on your email (look, we get it, sometimes it's hard to *fully* let go) — because, let's be honest, in this day and age, WiFi should be considered as essential as water.
INCLUDED? THIS, TOO
Unlimited group workouts
For the 'do-nothings,' the 'do-somethings' and the 'do-literally-everythings' (you know who you are), we have tons of group fitness classes on board so that you can sea the world and keep your #FitnessGoals going. From sunrise yoga and outdoor boxing to a cycling studio and bungee workouts — you'll have full access to classes and state-of-the-art gym equipment for unlimited opportunities to break a sweat. And if you're not the working out kind, well, the views are nice from the gym?
STILL INCLUDED
All essential drinks. Always on us.
Hydration is key — especially in a sun-soaked, adventure-filled, energy-buzzing holiday at sea. Start your day with a drip-coffee, quench your post-workout thirst with still and sparkling water, get a non-pressed juice by the pool, or find the perfect soda and end your day in paradise with your favorite bedtime tea. With all essential drinks already covered, you can recharge, free of charge.
LIGHTS. CAM. ON US.
Late nights and neon lights
With a festival-like lineup featuring original, first-to-sea productions, extraordinary pop-up acts, and immersive experiences, the entertainment you'll experience on board is something you've never seen before. It's wild. It's thought-provoking. It's a full-on extravaganza. And it couldn't be anything else. Digging deep into our musical roots, we've collaborated with the world's most-talked-about directors, choreographers, and artists to create the live entertainment only a Virgin brand could.
Avoid FOMO and get Virgin Voyages news as it breaks.