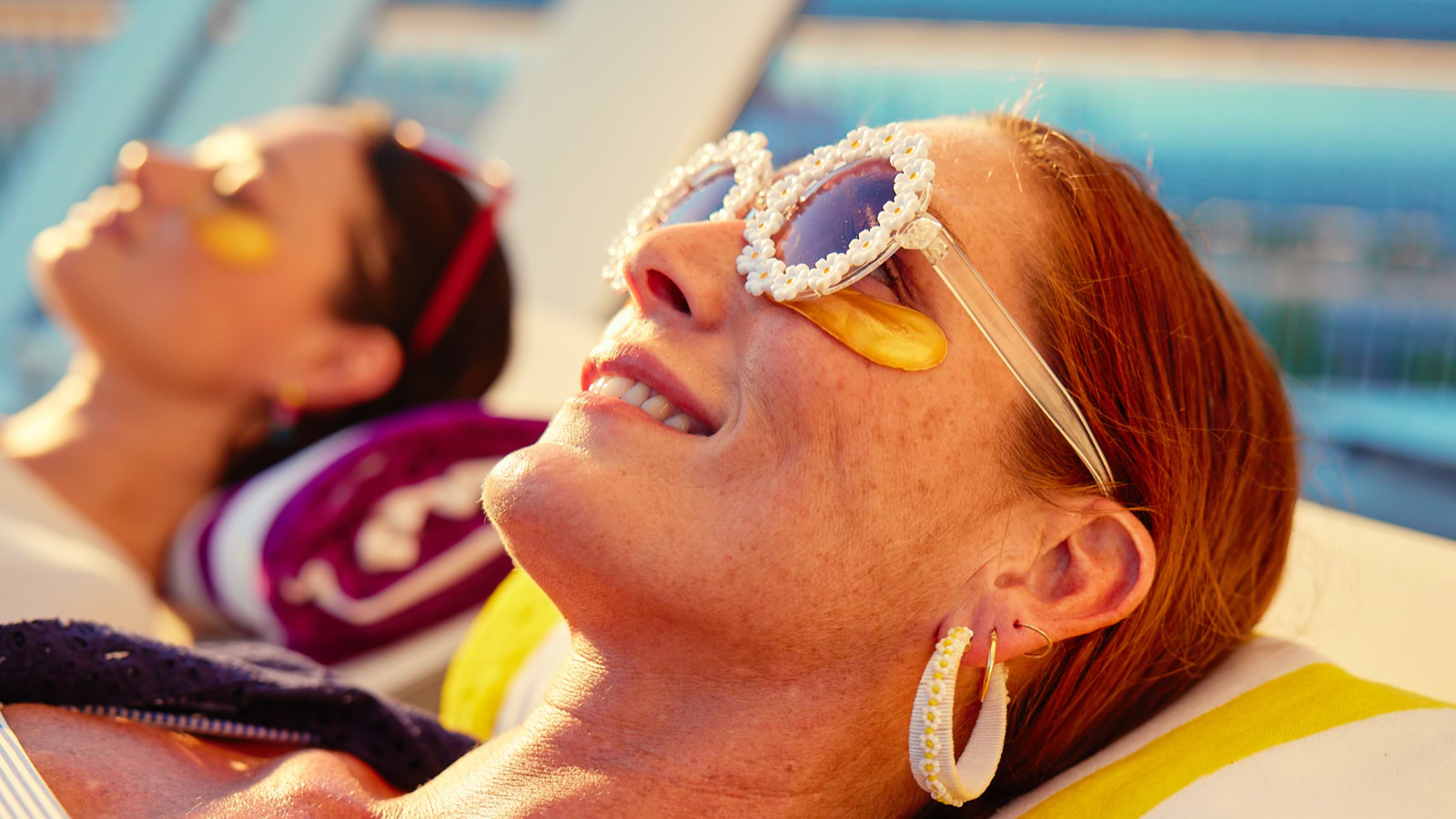 Well-being Season: From January through March, 2023.
Whether you're a triathlon champ or someone who only runs away from the gym, our January through March sailings will help you start the new year right
Pick up where you left off…
Your vacation awaits — don't let these voyages sail away.
EAT & DRINK
Healthy Happy Hours Included
A social event healthy in spirit, our Healthy Happy Hours also feature health-conscious mocktails and innovative drinks to get you in the mood. Unwind and connect with other Sailors sipping on the healthiest spirits and ingredients onboard, or use this moment to balance out your experience after your day's detox.
FITNESS & SPA
Ready Set Glow Package
Get the glow you deserve with a dreamy spa package designed to help you feel your best long after your voyage. Featuring an exclusive yoga class, an Evolt scanning session complete with a private nutrition seminar focused on your wellness needs, a 3-hour all-access pass to our ethereal Thermal Spa, plus a relaxing 25-minute taster treatment, you can book the Ready Set Glow Package for a limited time on board at Redemption Spa for only $200.
Wellness menus
Just like your well-being, healthy eating is all-encompassing — it involves your physical health, your mental health, and your emotional wellness. So for Well-Being Season, we're highlighting all the mouthwatering dishes on our eateries' menus that are also good for you.
Personal wellness programs
Learn how to make healthy habits stick with engaging activities, personalized treatments, and rewarding wellness programs designed to match your lifestyle — whether you're getting back into fitness, are already used to exercise, or just want to relax your body and clear your mind.
Join a group and find your groove
With multiple options and professional trainers guiding every group fitness class, you'll surround yourself with like-minded Sailors, work towards achieving your wellness goals, and discover unique opportunities to relax, connect, and break a sweat.
Wellness workshops & classes
Explore a mixture of events specially designed to help you understand the various aspects of a healthy lifestyle and how to integrate them into your own — from learning the basics of nutrition to mindfulness, posture, and more.
A steaming-hot cupping class at Razzle Dazzle

Spill the Beans with Intelligentsia Coffee

Experience the tasting process used by industry professionals, learn the nuances and intricacies of different hand-selected varieties from all around the world, and transform your daily caffeine-fix ritual forever.
A mildly caffeinated educational experience

What's The (Jojo) Tea?

In this 60-minute experience specially designed for tea lovers, you'll find out the origin of tea and its categories, learn how to analyze and taste its four main styles, and get an inside look into our partner-ship with JoJo Tea so you'll never see a humble cuppa the same way again.
A sushi & rice demonstration at The Test Kitchen

Rice, Rice Baby

Get a taste of the ancient art of sushi-making, learn to select sushi-grade fish, understand the right way to forge a sushi knife, and get our top-secret sticky-seasoned rice recipe. After all the tips and techniques you'll master, you'll go home ready to host the most epic sushi roll dinner party.
Get your daily savory and spicy fix at The Galley

Filthy Bloody Mary & Heineken Michelada bar

With fitness classes, pick-me-up juices, and relaxing spa treatments to help you detox, it's only fair that we raise our spirits with a cheeky cocktail during Well-being Season. Head to The Galley from 9 am to 3 pm, and get ready for your day with your new favorite Filthy and Heineken hot twists.
Guided sound bath meditation and gentle yoga flow

Sip & Sway with Kin Euphorics

Relax with a guided meditation sesh followed by a restorative yoga class led by Vibransè's own Andrea Mihalik at The Beach Club at Bimini. With Kin Euphorics' adaptogens, nootropics, and botanics-infused drinks, we're raising the bar on social hour and keeping the sugar levels low.
It's what you do, not where you do it…
…but being inspired by the Caribbean blue and getting pampered with an ocean view just hits different.