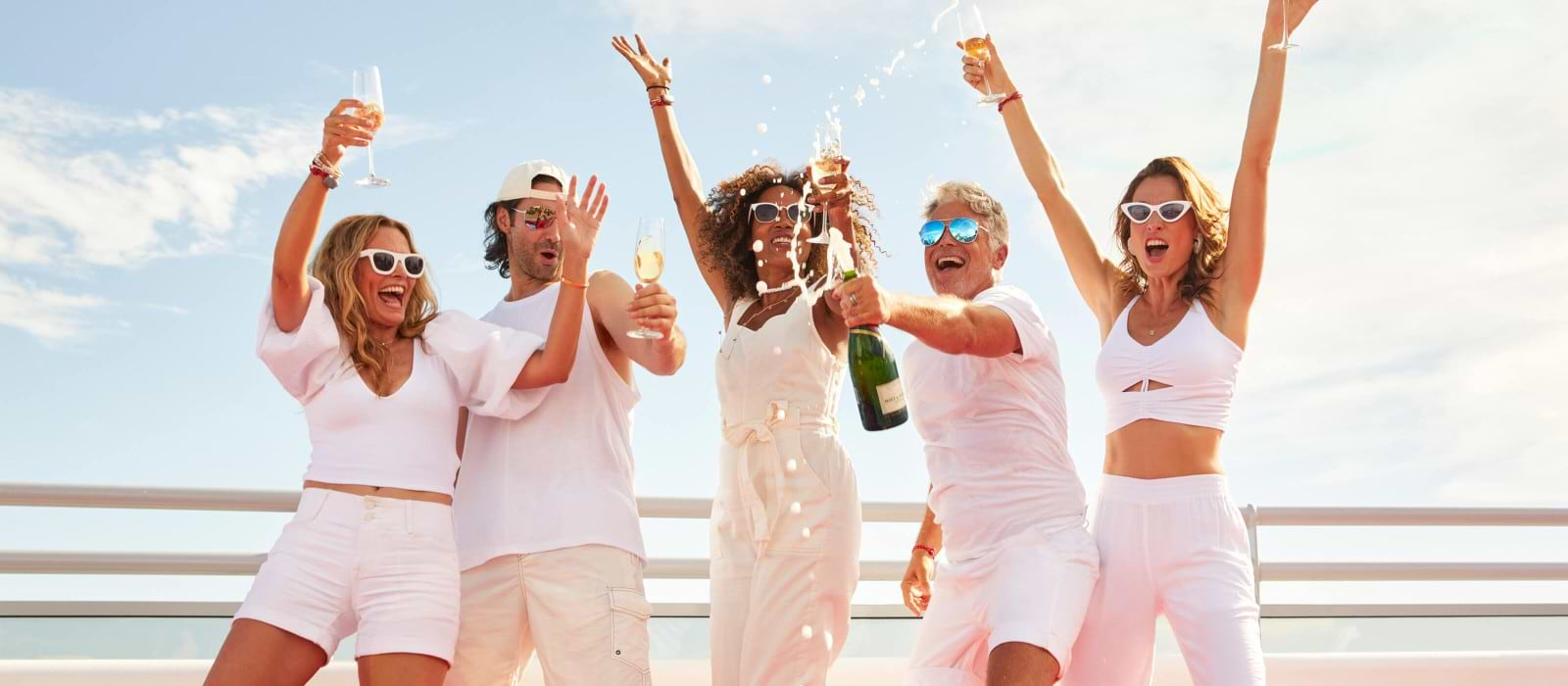 Pick up where you left off…
Your vacation awaits — don't let these voyages sail away.
Say bon voyage to splitting checks on Venmo.
Group trips are the best, but settling who-paid-for-what… not so much. So, we take away the classic group headaches by including all the good stuff.
rise & shine
Catch your Zzzs together… or apart.
From our chic, high-tech cabins to our luxurious RockStar Quarters, living the sweet (or suite) life is par for the course with us on board. Whether you want to get social and share a cabin for late-night chats with your girls, or have tons of room to stretch out (and get away), we have spaces that make it easy to vacation your way… even when, technically, you're with a group.
Food & drink
Taste the fare (and flexibility).
Whether your crew is craving a lively Korean BBQ night or an evening of decadence at The Wake, with more than 20+ delicious eateries with menus curated by Michelin-star chefs and an app that makes it easy to book together, setting up dining can be done anytime, anywhere. And if you need a break from the crew (because, let's be honest, we all do), you can dine alone, hit up The Galley, or order Ship Eats to your cabin.
EVENTS & SHOWS
Pop ups, pop in, or pop off.
From our diverse lineup of shows and late-night dance parties to productions created by some of the most renowned directors in the world, we've got something for everyone. So whether you like low-key bluegrass music over a seaside cocktail before calling it an early night, or a fast-paced retelling of Romeo and Juliet with a circus twist — you're never beholden to doing what the rest of the group does (but you can do that, too).
REST & RECHARGE
Group (or individual) mindfulness.
We're all about balance — so whether your idea of wellness is keeping up on your daily spin class routine or melting into a luxurious massage (or both), we make sure that you can take care of yourself, even when you're far from home. Because let's be real, a group trip to the thermal spa is an amazing option, but big trips can require the occasional personal escape, so we've made that a priority, too.
SEASIDE SPOTS
Restore, explore, & sea the shore.
Going somewhere new (often) comes with logistical headaches — and while we get rid of those on board, we also make it a point to make sure exploring each gorgeous locale is curated with ease, too. From booking Shore Things easily on our app, to free, organized ferries for groups, seeing each destination as a group, smaller groups, or alone has never been simpler.
No maps, just (smart phone) taps.
Peruse all the onboard (and offshore) activities before you even get on board. Plan your days and nights ahead of time, or get on board and let the waves take you where they will. Because we let you sync your group together and easily add your crew members to bookings, the app takes the tactical nightmares out of vacationing.